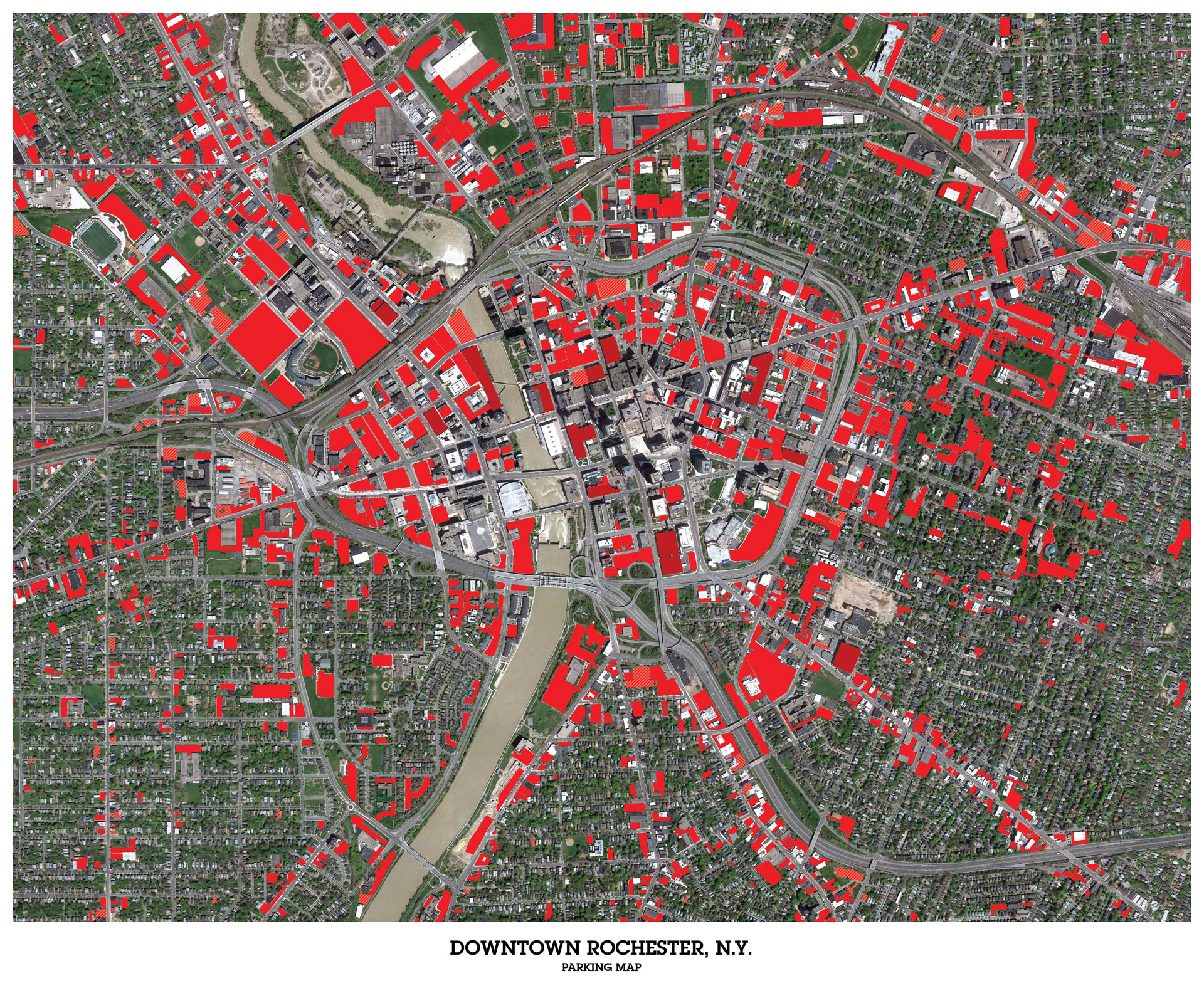 Posted by: Mike Governale, president and co-founder of Reconnect Rochester
This Wednesday, 5:30 – 7:00pm at the Penthouse (1 East Avenue – 11th Floor) you are invited to attend a Downtown Parking Summit
hosted by the City of Rochester. But this is not a meeting to discuss how we create more parking. We've tried that before, and it nearly killed our city.
Reconnect Rochester recognizes the importance of having an adequate supply of downtown parking. However, we believe parking should be one component to a much larger, diverse plan to improve access to downtown…

Ultimately, our collective goal should be bringing more people downtown, while REDUCING the demand for parking and its impact on our landscape.
How can we do this? With a strategy that does all of the following:
Make better use of the 26,000+ parking spaces we already have by providing better information/signage, and multi-modal connections (pedestrian/bike/transit) to, and from, those facilities.
Engage RTS (and if necessary, a 3rd-party) to provide higher-frequency circulation into and around downtown via public transit.
Work with downtown employers/stakeholders to educate commuters and provide real incentives to use alternate transportation.
Make walking safer and more enjoyable by establishing a program to activate downtown streets and public spaces through street beautification, public art, etc. AND by prioritizing the re-development of surface parking lots and encouraging interior parking lots (i.e. parking surrounded by buildings that front the street)
To continue to try and provide next-to-free, next-to-the-door parking for everyone would be madness
. We know that transit alternatives are the key to a healthy city; economically and socially. And if we are serious about becoming the best mid-sized city in America, we all need to champion major changes to our parking and transportation policies, not only in the city, but across Monroe County.
Help us get there faster by attending this important meeting
(take the survey
too) and tell the City that we need better transportation options – not more of the same.
See you there!