This past weekend the Department of Chemistry and Geosciences at Monroe Community College (MCC) held its annual Professional Development Field trip for faculty members. This year's theme was "Seeking a Greener Rochester" and Reconnect Rochester was invited to give a brief history lesson on Rochester's transit history and a perspective on the future.
The weather was absolutely gorgeous this Saturday as we all gathered outside on the Court Street bridge. This was a fitting location as the very spot where the Genesee River, Erie Canal, the old subway, two extinct railroads and Interstate 490 all meet. And the story we told went something like this…
A Golden Era:
A cherished myth is that before automobile ownership was common, people lived in some sort of splendid isolation on their farms and villages. So, if we could go back to say, 1929, on this very spot, we might be a bit surprised to see how many options Rochesterians once had.
That restaurant (Dinosaur BBQ) was once the Lehigh Valley terminal. You could board a train there at 6pm, connect to the Black Diamond Express a few miles south, and arrive in downtown Philadelphia the next morning, refreshed and fed. Across the river was the Erie Railroad (now surface parking) which could take you electric commuter trains as far south as Mt. Morris and by steam train to Elmira and ultimately Pittsburgh. A few blocks north of here, where Amtrak stops, was one of the largest and most magnificent train stations in America where dozens of New York Central trains stopped around the clock taking you directly to Boston, New York City, Cleveland, and Chicago and hundreds of smaller destinations. Where you can now buy a Garbage Plate, you could take the B&O to Washington, DC or Pittsburgh. Just across Main Street was the Pennsylvania Railroad station with trains south to many stops in New York and PA. At the corner of Court & Exchange was the interurban trolley station for The Rochester and Eastern out to Pittsford, on to Canandaigua, and ultimately to Geneva with many smaller stops. The Rochester and Syracuse could get you from downtown Rochester to downtown Syracuse faster than you can drive today, with its 75mph trolleys on private rights of way. You could board the RL&B to Spencerport, Brockport, and on to Lockport to connect to Buffalo or into Canada. And you could get the Sodus Bay Royal Blue Line to Webster, Williamson, and Sodus Bay. Looking down (over the Court Street railing), the Subway had recently opened with fast service from Rowlands Loop to General Motors via downtown. City streets had over 400 trolley cars operating round the clock on more than 200 miles of track. Motor buses were just coming into service on trolley lines having low patronage and some intercity runs. Rochesterians had begun to purchase automobiles, but the universal pattern was for a single Family Car that often sat in its garage while the family used trolleys, interurbans, and steam railroads for most short and long trips.
Cities were built around these high-capacity modes of transport. They were compact with major retailing downtown and smaller retailing in each neighborhood. Factories had their areas, farms were in today's suburbs, villages were distinct from the City, and people made ample use of Rochester's famed FL Olmsted parks and the Coney Island of Upstate at Ontario Beach. It was a simpler, less-affluent life, but the 20th Century brought mobility to the common citizen on a scale unimaginable a century earlier.
In fact, throughout human history to the late 19th Century 99% of all people walked all their lives. You were carried by your mother as a baby and your friends to your grave, and you walked in between.
Autos & Highways:
In rapid succession during the 19th Century (1800's) came, the omnibus, the steam engine, bicycles, horse and cable cars, the electric trolley, and the gasoline powered automobile (along with steam and battery). Courtesy of Henry Ford, one did not have to be a King or Wealthy Industrialist to have one's own transportation. By the 1920's cars were competing with private trolleys, interurbans, and railroads for patrons. The Federal and State governments' decisions after WWI to pave mud roads gave a huge public advantage over private railroad and trolley companies. All this was slowed by the Great depression of the 30's and WWII in the 40's. By 1950, however, the affluence of post war America and the decision to create the Interstate System, and to publicly fund airports and air traffic control spelled doom to private transit and passenger rail in America.
Buses did not replace the trolley car. The automobile did. The bus was for the poor, the disabled, the very young, the elderly, and anyone else who could not own a car.
Since automobiles require lots of space to do their job best, and since people wanted to buy that vine covered cottage in the suburbs, land use rapidly changed from the more compact form of pre-1950 America to what we today call suburban sprawl. The gasoline taxes, and tax policies like mortgage interest and property tax deductions along with FHA and VA mortgages gave automobiles and highway vehicles a clear advantage over railroads and private trolley companies.
You have all lived the result. Lots of fine suburban development, but also the rise of really ugly suburban retailing strips and big box retailing and malls. Huge gasoline consumption. My parents dreamed of leaving the old, run-down, noisy, dirty, smelly city for that little house on a nice little plot of land "out in the country." You all most likely do not share that dream. There is a distinct trend amongst the younger, better-educated, more affluent men and women to prefer a revitalized urban lifestyle in a restored factory or apartment building in a restored pedestrian-oriented neighborhood. Maybe you'll want a suburban sojourn when you have kids to educate, but the times they are a-changing! Not the old cities of the 30's, but a restored vibrant city of the 2000's that takes the best of the old and enhances it with the new.
A Better Way:
Remember I said that cars need as lot of room to operate? Well, you look at the great cities of the world, and you see that they are all build for the pedestrian. The walker is the king, and the role of various transportation modes is to extend the walker's range without harming the built-up environment. Since humankind has not perfected a more efficient form of surface transport than steel wheel on steel rails, we can more the most people, the quickest, and with the least amount of noise and pollution on electric street railways and having the least amount of disruption of the urban landscape. You cannot say that for an eight- lane expressway slashing through historic downtown neighborhoods enabling motorists to speed by the city while never entering it.
Cities have been beaten up by this approach to transportation and land use for 60 years, and many, like Rochester, have developed huge inferiority complexes to the suburbs. We tend to measure all success in terms of suburban style. Even Midtown Plaza, which was successful from 1960 well into the 80's, was an attempt to redevelop downtown as though it were a suburb. Big box projects like Renaissance Square and the Bus Station on Mortimer Street are attempts to apply suburban solutions to urban areas.
Your generation does not have to be chained to this sense of inferiority or the old notions of transportation that have dominated our thinking since the 50's. You now have many examples across the nation and throughout the industrialized world of great, walkable, urban, sustainable areas. You have the freedom of thought to remake Rochester into its 21st Century Greatness.
Take a look at the map entitled Rochester Rail Corridors (above). It is still possible to use old railroad rights of way to implement a comprehensive rail system that will change land use patterns over the next two decades and reverse suburban sprawl using Transit Oriented Development to restore economic sustainability to the City while lowering the cost of mobility for those earning less than $500,000 a year. This system would happen overnight, and it will cost a lot, but perhaps less than trillion dollar wars in the Middle East. And we can still enjoy our cars!
Looking at Downtown or Center City, take a look at the Google Map (above) of a Downtown Trolley Circulator. This is about 4 miles of double track electric streetcar. The public can decide if they'd like it to be a sleek, ultramodern streetcar or an old-fashion-looking Heritage Trolley Car. The vehicle is modern; the exterior can be whatever we like. This system would enable people to park once and get around by streetcar. It works for residents, and those downtown to work, attend a sports event, enjoy a restaurant, attend a concert, or just walk around and enjoy a vibrant city.
It all comes down to the kind of America you want to live in for the rest of your lives and those of your children and grandchildren! Do you like the way things are today? Or do you think you have a better solution for your generation?
Restocking Our 'Toolbox':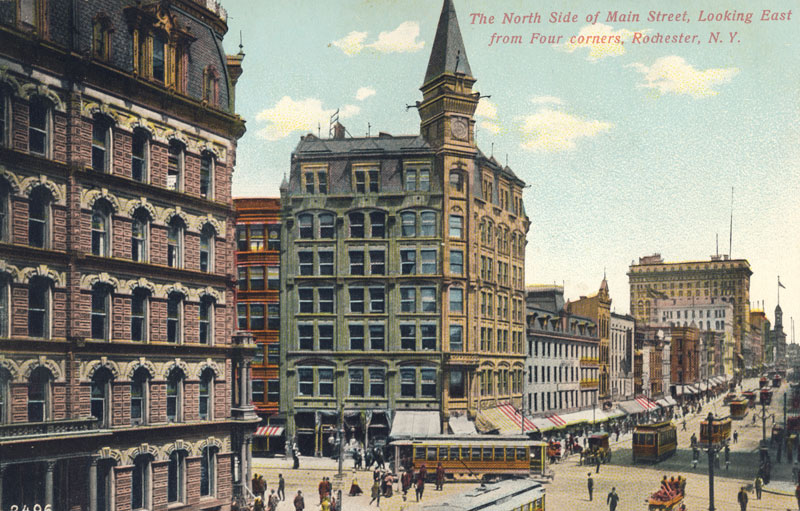 As you have heard, Rochester once had many transit tools in our transit tool box – streetcars, a subway, interurban railroads, long distance passenger rail, and buses, in addition to our cars, our bikes, and our feet.
Now we have one tool. The bus.
This is difficult in the present, and will get more and more difficult in our future. APTA (American Public Transportation Association)
estimates that when gasoline reaches $5 a gallon, public transit usage will increase by 1.5 billion trips annually. Are our city and our region prepared for this kind of increase in transit use?
Reconnect Rochester advocates for enhanced transit: we need to find every way we can to put all those transit tools we once had back in our transit toolbox.
And we need to continue to think clearly about the tool we have – the bus. In 1941, when the streetcars left our streets, 75% of the region's population lived in the city – a good reason for all those buses at Main and Clinton.
Today, only a bit more than 20% of our population lives in the city. And yet all those buses remain at Main and Clinton. Perhaps we need to rethink how our bus system operates.
And especially in light of the fact that a recent Brookings Institution study indicates that Rochester has the 7th highest rate of suburban poverty
in the nation. Yes, I said suburban. It is not only inner city residents who increasingly need access to transit tools. Access to transit tools is needed throughout our region. We need to find ways to meet these increasingly pressing demands.
And to find ways to move around our city and our region in something besides our cars. The average American spends 450 hours a year behind the wheel to and from work. You can do the math. 60% of all driving in this nation is commuting. And while public transit saves about 1.5 billion gallons of fuel a year, and 126,000,000 pounds of hydrocarbons, we must do more in order to assure the sustainability and resilience of our urban places, and our own city. The single most important thing we can do to lower the carbon footprint of our home place is to enhance our transit systems.
Our pocketbooks need help too. As we have spread out across the region, we have built the physical infrastructure we needed – roads, sewers, power. And we have built the social and civil infrastructure we have needed as well – libraries, police and fire services, and many others. We have duplicated and triplicated and quadruplicated the systems we need to support our current lives.
But now, as our tax bills arrive, we discover increasingly that we can't afford all of this mess. We read about closing libraries, lay-offs of public service employees, cuts in social service, roads that we cannot afford to repair. We have constructed a monster that we can no longer afford.
Our future will certainly feature higher fuel costs, more urgent environmental problems, and a need to live more frugally, more compactly, more affordably in our region. For the sake of our children, and their children, we need enhanced transit to help meet these demands, demands that will press on us with increasing force as the future unfolds.
A recent study tells us that if Americans had to pay the real price of a gallon of gasoline, without the subsidies and tax breaks, and taking into consideration the health and environmental impacts, the real cost of fuel
would be $7 more per gallon than we pay today at the pump. That would be nearly $11 per gallon.
If you filled your tank with $11 a gallon gasoline, would that change the way you think about your mobility? And if the answer is yes, than you should help Reconnect Rochester speak clearly and aggressively in favor of enhancing Rochester's transit tool box. Join us.